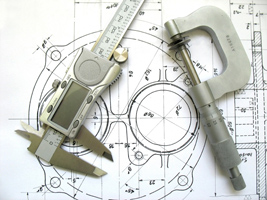 John Hile, owner of Advance Deck & Sunroom Indiana, has served the Indiana region and all surrounding areas for nearly 15 years.
Our team comprises of knowledgeable, professional, and highly skilled staff. We make your satisfaction our highest priority. Our constructions aim to give you a relaxing, serene place to gather with family and friends year round.
We believe that you not only buy top quality materials and a builders expertise, but a place for the family to gather, the children to play, and a beautiful place to unwind and relax. We understand those dreams, and turn them into decks, sunrooms, screen rooms, and gazebos. Getting more out of life begins in your own backyard!
Testimonials
We used our sunroom all winter long, our thanks to you and your crew!
– T. P. Griffith
We enjoyed the deck this year and look forward to many years of relaxation on it. Family and friends have all made very positive comments.
– B. Jennings
We are 100% pleased with our porch, it's my favorite spot in our home, it's virtually an all-year room. We think your crew did a great job and pricing was very reasonable.
– R. Watts
---
Advance Deck & Sunroom Indiana uses composite decking products made by Trex.

There's nothing like spending time outdoors. A lazy summer afternoon cookout. A cool night under the stars. A water-balloon fight with the kids. At Trex, they believe that life's best moments happen right in our backyards. And Trex invented the idea of high-performance wood alternatives for precisely these moments.
Trex products come from a unique combination of reclaimed wood and plastic. Trex decking has all the natural beauty of wood, but leave behind the rotting and splintering. You won't miss the splinters and neither will your feet. Trex materials are also a breeze to maintain, so you'll spend more time relaxing on your deck instead of working on it. The wood also protects the plastic from UV damage and gives your deck that solid, natural feel. What's more, Trex products won't just improve the look of your home—they'll improve the value. And Trex has been in backyards for over 16 years, the longest record of proven performance in the industry.

Trex products are backed by a 25-year limited warranty. The Trex 25-year limited residential warranty offers coverage against material defects in workmanship and materials, and against splintering, splitting, checking, rot, decay, and termite damage.
Trex products come in two textures, both smooth and wood grains. They are available in a range of different colors for any home decor. Find out more about Trex at their website, Trex.com.
Trex Transcend Decking & Railing
Trex comes in a variety of styles. We highly recommend building your deck with Trex Transcend Decking & Railing.
With a protective shell, unrivaled fade, stain, scratch, and mold resistance, low maintenance, and wood grain beauty to match, the one-and-only Transcend Decking is the ultimate expression of luxury and function. Transcend comes in a variety of colors.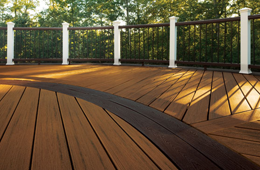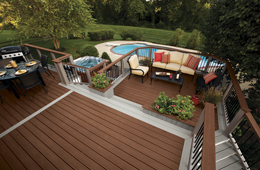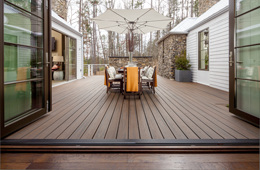 Trex Elevations – Steel Deck Framing
With Trex Elevations you can be assured that your deck's frame will last as long as your composite decking. Trex Elevations steel framing will not rot, splinter, or warp like traditional pressure-treated wood substructures.
Trex creates their Elevations Steel Framing with galvanized steel and a bronze colored powder coating. It is non-combustible, termite-proof and rust-resistant. To protect your investment, Trex backs their Elevation decking with a 25 year limited residential warranty. You can depend on it.
Also environmentally friendly, Trex Elevations contains a minimum of 20% recycled steel and no chemicals. It is made of 100% eco-friendly material that is easier to recycle than chemically-laden pressure treated lumber.
While steel costs a bit more than pressure-treated lumber on a per-foot basis, Trex Elevations ends up saving you money. It lasts longer than pressure-treated lumber, which saves you the cost of fixing or replacing your deck for at least 25 years. It can also turn unused space under your deck into an outdoor living space if you pair it with a Trex RainEscape Deck Drainage System.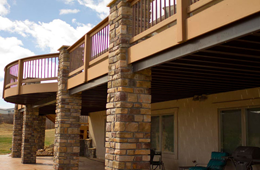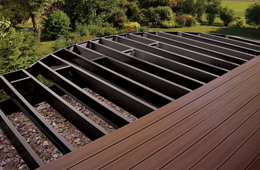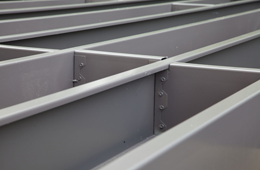 Call 765-610-0585 to request a FREE estimate!